Fette Lalalal in Fabelhaft (Thursday Waterhole Session Especial)
June 21, 2015 @ 2:00 pm

-

7:00 pm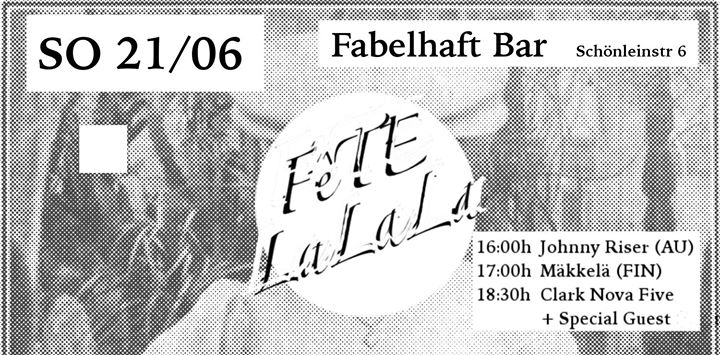 16h00 – Johnny Riser (AU)
17h00 – Maekkelae (FIN)
18h30 – Clark Nova Five
+ Special Guest (Buenos Aires, AR)
There is some words written down about these people who will take their instruments and use them for us. You can find it at the end of this message.
☀☀☀☀☀
Fette Lalalala (Thursday Waterhole Session Especial)
Although facing the longest daytime of all days in the year does already sound like a promise of its own kind, making a Thursday Waterhole Session Especial on this particular Sunday probably was not quite the most absurd idea the TWS crew has had so far.
And so we have been able to convince the Dutch- and Not-So-Dutch-speaking members of both FLOOR'S and Fabelhaft Bar to put some over-hours on their work schedule.
Rules stay the same: You come and listen, we drink and play. We don't mind you drinking as well.
✭✭✭✭✭ Johnny Riser
– once used to make use of a drum set in a group of people named "The Shivers" from New York. And in one called "Leisure Class" from Melbourne. A proper commuter one could say. Now he has turned his attention to the guitar and songwriting. One day we all have to get settled, don't we?
✭✭✭✭✭ Mäkkelä
– last of a dying breed some say. Which may sound confusing unless you have seen and heard this outstanding Finno-Germanic one-of-a-kind Songwriter perform.
Clearly a must.
✭✭✭✭✭ Clark Nova Five
– Garage Jazz and LoFiBlues. Never really been a bad band, but since some point in last year someone must have made it pretty clear to them that rehearsing isn't such a bad idea. And that obviously worked!
Guesting will be Román Fleischer on wrong sided guitars.
Skip back to main navigation