Clark Nova Five | 27. Sept 2014: Live Album Recording in Culture Container
27. September:
2-days

-recording session in Culture Container
Soon.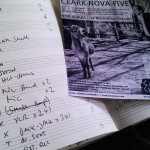 It is just a few rehearsals which still will have to be absolved: Drum kit tinkering with Tom. Duet arrangement with Susanna Berivan. Guitar tuning workshop with Mamasweed's Gogo. Bloodshed guitar work with Fuse Empire.
And then we will eventually feel prepared.
On Saturday
we will start our 2 day Live Album Recording Session behind the small wooden door of Culture Container. 27 September 2014, 21h. Holzmarkstrasse 25 (Ex-Bar-25-Areal).
On Saturday 27-9
This is what is going to happen:
> Live concert with Gidi, Tom and Clark as Clark Nova Five.
> Support act and later guest guitar: Fuse Empire
> Slide guitar and medical advice: Gogo
> Production: Franz Rodeck / F1 Studio
Doors open at 20.30h, be there at 21h so we can still have a drink before everything goes down on tape.
On Sunday 28-9
we are going to continue from 19.30h on. Guest musicians might vary a bit, especially since Susanna Berivan will join in that night. So you should not miss this night too. We will love welcoming you also on Sunday.
Skip back to main navigation