September 2014: Clark Nova Five in Hamburg and New Album Recordings
Clark Nova Five is back | Join Live Album Recording in Culture Container
You may not or may have noticed – Clark Nova Five is back! The Three-Piece-Band, put together on Rummelburger Bucht about 13 years from today. Initially staffed with Tom Diesel on drums and Johnny Zabala on Guitar, Theremine, Organ, Toy Piano and more, is now back: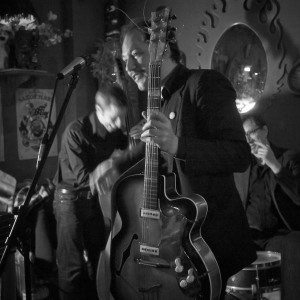 Bass: Gidi Farhi
Drums: Tom Diesel
Guit/Vocals: Clark Nova
Most astonishing, even for us: We are rehearsing. We are working on new sounds, arrangements and songs. And: We will be coming out of our den soon! On September 18th we will be visiting our Friends in St. Pauli, Hamburg for a few drinks and a Lammkopfsuppe (we will play, too) and by end of the month we will have recorded our next album. It will be a live recording session in Culture Container. Means: We want you to be there and it will be a Live Concert (means: we all can and will drink and party) but also a recording session (means: it will be recorded, fixated and endure over all our lifetimes).  We ourselves are pretty curious to see how this will combine but Captain Franz knows what he's doing. And he's the one producing the record.
Now here's your plans for the end of the month:
September 18th – Nachthafen, Hamburg, 21h (Clark Nova Five)
What can one say about Nachthafen? We'll let others speak:
"Nachthafen is a valuable gem in St. Pauli's spiritless desert: It's here where I come when I thirst for the pure waters of life."
– Jorge Mario B., Political/Religious Leader, Buenos Aires/Rome
"Nacktharfen? Seen pictures of this on the internet, so I just had to come. Ein Weisszenbier, bitte!"
– J. F., CEO Gall & Tire Co.
"Over the past decade we at Lehman Brothers have acquired superior expertise in delivering liquid funds to the final consumers of this promising enterprise. What surprised us most at Nachthafen is that it even was possible to allocate remnant Mexican f&b stocks which before had only faced demand in husbandry and nuclear industries."
– W.-D. L., Lehman Brothers Holding Inc.
September 27th – Culture Container, Berlin, 21h30 (Clark Nova Five, Fuse-Empire, Guests)
Support Fuse-Empire
This night we are going to record our new album. The album hasn't got a working title but if it had, it had got something to do with birds. But what is actually spectacular about the new album and its recording is, that we are going to record this record together with our audience. A recorded concert or Live Album in one way, but also a proper studio recording session where we would like to share the extraordinary atmosphere of a recording session with our fans and guests.
RVSP is kindly requested, the event is non-public (invitation only). There will also be a fee for getting in, which will include access to exclusive audio and video recordings of the night. Plus a Clark Nova record of your choice. Details and a link to register/reserve seats will be made available this week.
The album will be released in March/April 2015, a very limited but also very special edition will be made available in February.
Skip back to main navigation